Well guys, this week's Workingman's Wednesday may be a bit skimpy on words, but that's about the only thing.
I won't lie, I already have my eye on next week. Check out a calendar or do the math…we have a big one coming up. Actually the next 2 weeks have me scratching my head and drafting a game plan! Can't drop the ball on a once or maybe twice a decade opportunity!
So what's with all the Winterland pictures? Well, you can probably venture a guess. But if I'm doing this right, it won't be your first guess! (No, not the New years show in the first pic…that's an official release. Besides, that's not exactly off the beaten path.)
Nope, this week I'm making life real easy on myself and letting the show do the talking (and you guys of course). Whereas the Caesarean calendar is already making
next
week's entry a bit of a headscratcher for me (a fun one though), the Workingman's Wednesday calendar is doing just the opposite for me
this
week. Week
LXXVII
…as in 77…as in 1977!
We've only gone to '77 twice I think, and even then I was stretching to find a show that would fulfill my criteria…to find "rare" (to some) uncommon shows off the beaten path. I would have bored myself to tears if I kept marching the main 100-200 dates out there all this time. Not the Alpha dates, but all those that I would consider to be in "Tier 2". Like 11-6-77, 5-26-73, 3-15-90, 1-10-79, 4-21-69, et. al.
So to make things easy I thought no further than that this week. Its week #77…it will only come up once…so today we go to 1977.
But you know me, we will be steering wide and clear of the month of May! Ha ha ha. And you can forget about getting one of the 20+
Scarlet > Fire
s from that year. Likewise for getting one of the 15 or so
Estimated > Eyes
parings from that year either. Heck, one visit to Nugs.net should scratch your '77 itch for quite a while…maybe forever to a casual fan. That means I still have my work cut out for me.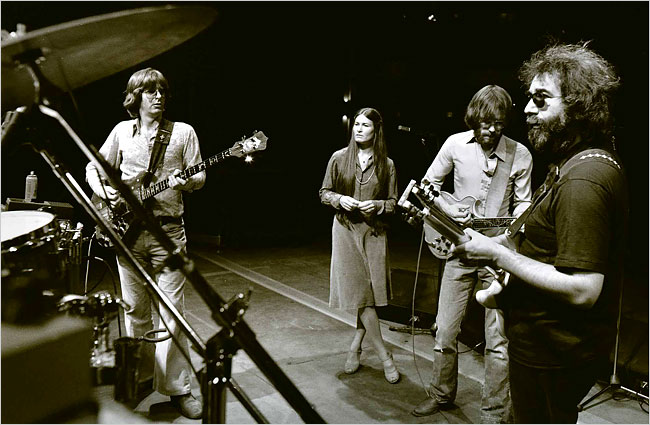 1977 and Winterland. There's quite a relationship there. The Dead played that building 10 times in 1977. A few times at the beginning of the year, a few in the middle, and 4 at the very end (I'm sure everyone is familiar with.) Most have been released already. Not this one.
The Dead closed 1976 with a bang. A well hyped and very well delivered New Years show at The Cow Palace. That one was a big deal because it re-established the Grateful Dead New Year's tradition. The last one before that was for the '72-'73 festivities. This launched them into the new year with lofty expectations. They hit the studio at the beginning of February and began to work out a bunch of new material. With shows slated to kick off at the end of the month, they wanted to debut this new batch. The first show of the year (another "Tier 2" common show), was 2-26-77 Swing Auditorium, very famous for the debuts of
Terrapin Station
and
Estimated
. 3 shows into the year brings us to the first plug-in at Winterland, which sawt he debut of
Fire On The Mountain
on March 18th. It should be noted this show contains the only version of
Alhambra
as well.
2 days after that brings us to the 5th show of 1977, the last of the 3 night stand at the old ice skating rink. This is kind of like a "calm before the storm" (although there is nothing calm about it) to prelude what's about to transpire over the course of 30 shows or so from April-June. A hint of things to come.
And I guess there
is
something rare about this show after all. We can go ahead and consider this
Scarlet
's bachelorette party as well, because after tonight she will rarely find herself single ever, ever again. (
Scarlet > Fire
) debuts at the next show and pretty much never looks back).
_________________________________________________________________________
3-20-77 Winterland
mp3 (part 1):
http://www.mediafire.com/?ya7a3hmu2fwaqt7
mp3 (part 2):
http://www.mediafire.com/?owhcvrfy6e77frz
SET 1
Minglewood
Ramble On Rose
El Paso
Deal
Cassidy
Peggy-O
BIODTL
Brown Eyed Women
Estimated Prophet
Scarlet Begonias
SET 2
Samson
Row Jimmy
Promised Land
St. Stephen >
Other One >
Stella Blue
Around-n-Around
(E1):
U.S. Blues
(E2):
Terrapin Station
_______________________________________________________________________
THE ARCHIVE:
http://www.mediafire.com/view/?2h9idqp261mic1y
My new favorite day of the week. Thanks for the show man!

So useful for me getting deeper into The Dead!

Thanks for this!

Thanks again mike..

Scarlet's "bachelorette party" haha. I like that

dang, i loved winterland...a piece of my soul lies beneath those freaking apartments...i cry every time i drive by


Great show, thanks Mike.
::knowing full well what the next two weeks is about....wondering what he'll give us....and I cannot imagine the pondering that's going on in your head about what to actually give out::

BUMP
for the
Other One > Stella Blue
transition alone.
I just started re-listening to this show yesterday. I've heard it before, but not recently enough to start spewing comments about songs. Check out those few minutes after
The Other One
basically ends. Beautiful.

You are the best, dude!!!
You must be logged in to leave a comment!