Bob Weir and his band Ratdog played a show in New Hampshire on the night of August 9th, 1995...the day Jerry Garcia passed on. It was a questionable move in some folk's eyes, and for others it seemed the only way to go.
It's been a while since I heard the audience tape of that performance. But going from memory, Bobby opened the evening by saying something to this effect:
"If our dearly departed friend has taught us anything, it's that music can make bad times better...and tonight we really have our work cut out for us so we're gonna get on with it..."
And with that a room full of maybe 5,000 folks, on both sides of the stage, began the long and arduous journey of healing.
___________________________________________________
This is a difficult Wednesday for me, guys. The initial wave of shock, sadness, grief, (and anger) has subsided somewhat...perhaps numbed is a more appropriate word...but now we all find ourselves in that uncomfortable and unwelcoming grey area that resides somewhere in the vast expanse between sadness and comfort.
I think this is what some armchair psychologists would call the beginning of the healing process. We all feel things differently and we all digest news in our own way. Part of me feels silly trying to go about this behind a computer screen on a music forum...but this community is different. I said my first hello to
@BarefootBob
while sitting right here in this exact chair...and it feels sadly appropriate that I'll attempt to say goodbye from the exact same spot.
The only difference is that the calendar next to me on the wall says 2013..not 2009. 2009...let me start there...
...when Bob first reached out to me to offer support. Because that's the kind of guy he was.
_________________________________________________
I know those of you who have been here since the beginning have heard my story a few times, but I suspect others haven't. In 2009 I was an absolute wreck of a human being. In circumstances that are way too similar for me to even ponder at this moment, I lost my father to colon cancer in June of 2009. The details between the two stories are frighteningly similar. It feels like I had to re-live it all these past 5 months.
On a scale of 1-10, I was a level 13 alcoholic by 2009. I honestly don't remember much from that summer. I stopped working, every known payment I had was at least 2-3 months behind, my personal relationships had deteriorated to point of no repair (I thought), and quite frankly at the age of 36 I had given up on life.
From maybe July 'thru September I never left my friends basement. My girlfriend dumped my drunken ass about 20 minutes outside of Deer Creek in 2009 and that was the end for me. Remember that rainstorm where we all had to evacuate? Good because I don't. But I do remember being passed out in the back seat of her car while we were heading home from the venue. To the best of my knowledge I never made it inside the venue that night. Perhaps I should strike that show from my stats list.
For two months I turned my phone off and I drank. And I drank. And I drank some more. I would chug beer 'till I got sick or passed out...wake up and throw up so I could chug a few more down...and it went like this for 2 months solid. I threw in the towel completely. Looking back it's frightening how close I came.
This isn't about me, so I'll stop my story here. After an intervention by friends and family, I took my last sip of alcohol on October 5th, 2009. I joined Alcoholics Anonymous, and found myself with
HUGE
void in my life. Some people pick up hobbies...some need to go to church 7 days a week...some folks exercise...
...I found this forum and I was on it for about 8-10 hours a day. Phish.net was my substitute for drinking, and this community is what got me through those first few months of sobriety. I found my roots and my passion for life by doing something I used to do 20 years ago when life was good and full of hope and promise. I started trading Dead shows. And guess where my first envelope went? Some guy in Chicago name Robert Eckhart.
We did the back-and-forth thing a few times before we exchanged phone numbers. There was something about this guy...like I know we've met in the past but we didn't know it at the time. I called him and I was nervous. I don't know why I just was. Well, that nervousness went away in a flash. I swear, was there ever an easier guy to talk to! Man, I don't think so. For the next hour we blew each others minds with similar stories. It was eerie.
Once the dust settled on that conversation we learned something astonishing about each other. between The Grateful Dead and Phish, we had seen
OVER 50
shows "together".
50 shows! Absolutely we must have meet sometime in the past. Did we ever sit in the same section and chat at set break? Did we ever wait in a line together? Did we ever park next to each other in a lot? Did we ever smoke a bowl together next to a drum circle? Did we ever throw our blankets down together on a hill somewhere? Did we ever gather around a hissing tank after a show with crumpled up $5 bills in our hands salivating and waiting our turn at the valve?
We both
knew
that answer was yes.
50 shows together...but that isn't what cemented the relationship. It was something deeper than that, something only folks who have walked in our shoes can appreciate. A bond for life that is so strong it transcends words. You see, I was only sober for about 2 months when I first talked to Bob. It was then that he told me that he had been going on 3 years.
I about fell off my chair when Bob told me he was a fellow AA member himself. He's the first "outsider" I ever met who happened to be in the program as well. Anyone who is struggling with addiction can tell you the most miserable part of the whole process is that feeling of being all alone, that nobody on Earth can appreciate just how bad your situation is and how f***ed up your life has become.
I don't want to venture a guess on this part, but I know in my heart that as soon as Bob told me he went through
the exact same stuff
and now here he is 3 years later enjoying life again...well...
Bob Eckhart inspired me to live again. We've talked about sobriety and the 12 steps...and AA sponsorship and homegroups. We talked about the program and how it applies to our world. I couldn't believe it.
Guys...I can't predict all the "what-ifs" and "woulda, coulda, shoulda's" life has to offer, but I know this much. I've only been sober for 3 years and some change, and in all that time I've only had 2 constants in my life:
Alcoholics Anonymous and Phish.net.
That's it. Everything else has come and gone before and since, but those 2 remained from day one. AA and Phish.net. That has basically been my life since the end of 2009.
Bob embodied both.
We have a saying in our program, there is only one way to graduate from it. You finish living out the rest of your life in sobriety. It's a hell of an honor. To graduate from the program. It means you did everything the right way, with humility and serenity.
Bob, my friend, I salute you on your graduation day. It's an honor I can only hope to achieve myself one day. And with your support, I believe I can.
You helped me along this far, now I'll do my best to finish the game.
Rest in peace my friend. Now lets join hands and close this meeting one last time: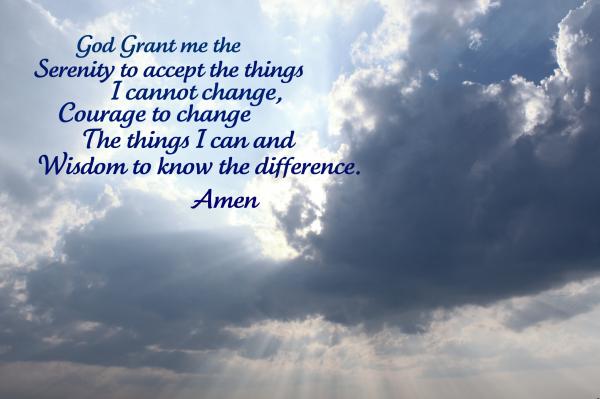 ___________________________________________________
Bob's gonna kick my ass if I leave it hanging like this! So let's charge on through this day with open arms, open hearts, and most importantly open ears.
Of those 50+ shows, this is one of the first we were at "together". I know for a fact Bob would approve of this pick. That avitar image we all know as
@BarefootBob
...the ghost man with the wide brimmed hat swinging the watch and chain...is an image from the album cover art for
Shakedown Street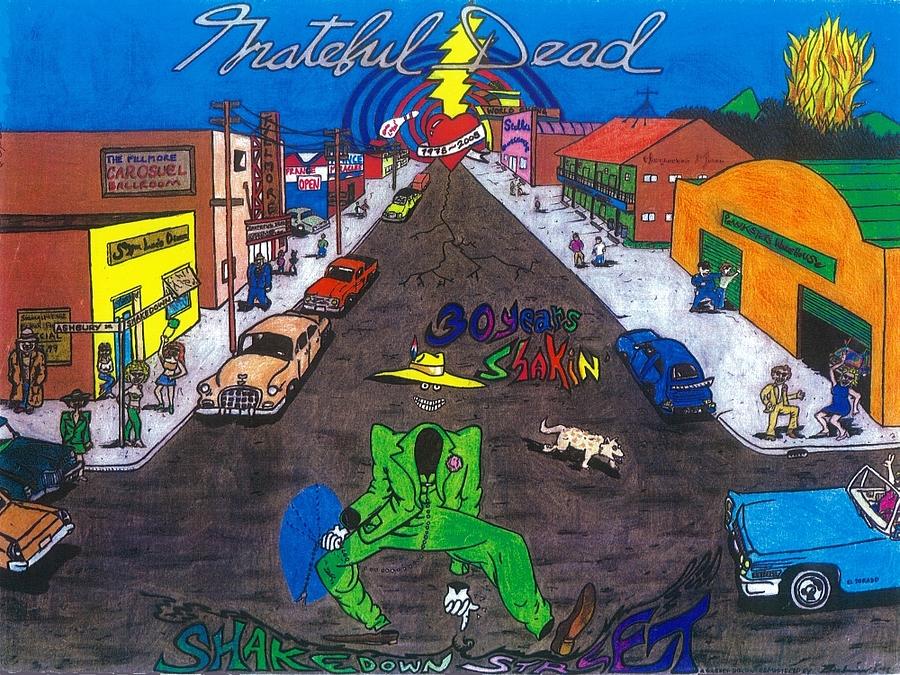 There are way too many melancholy songs in the Dead repertoire I could use today to yank on everybody's heart strings but that would be crass and decidedly in poor taste. I think Bob would kick my ass! (and probably make sure The Lions never win another game)

Nope. Today is all about some of the happy times we've shared, and this show without a doubt is at the top of that list.
I was about 20 rows back on the field right in front of Bruce Hornsby's piano for this show. Bob opened with
Hell In A Bucket
but Jerry seemed fidgety, like something was bugging him. A soon as
Bucket
ended we all knew why.
Jerry was busting at the seams to rip out
Shakedown Street
. You could tell he decided on it about 2 minutes into the opener. As soon as
Bucket
ended Jerry had already clicked over to the proper effect (Mutron II?)...started rolling that wrist up and down and racking out those opening chords the way only a former banjo virtuoso could. The way Jerry would turn his wrist like it was on a ball bearing when he'd chunk down a nasty groove.
The odd placement of the song set the table for the show that was to come. This is an epic performance, it deserves to be mentioned right along side 6-14-91 RFK for best show of a VERY strong Summer tour.
Is this the best
Shakedown Street
of the '90s? I don't know...that MSG show with Branford in September or the Hamilton version in Spring '92 are solid candidates as well. But I'll tell you guys one thing.
On June 22nd, 1991, Bob, myself, and about 50,000 other folks knew one thing.
This particular
Shakedown Street
was the best sound being produced on the planet Earth, and nobody could ever take that away from us.
And nobody ever will.
Crank this
Shakedown Steet
for
@BarefootBob
today. I think he would like that.
Nope..I
KNOW
he would.
Rest In Peace Bob. I'll see you again some day...when it's my turn to graduate. And I know you'll be there to present me with my coin when I do.
__________________________________________________
6-22-91 Soldier Field, Chicago
mp3 (part 1):
http://www.mediafire.com/?st6gq5vtc5u6snt
mp3 (part 2):
http://www.mediafire.com/?4htymq98a9qtkad
SET 1
Hell In A Bucket
Shakedown Street
Wang Dang Doodle
Friend Of The Devil >
Masterpiece
Brown Eyed Women
Let It Grow
SET 2
Foolish Heart >
Looks Like Rain >
Crazy Fingers >
Playin' >
Terrapin Station >
D/S >
Dark Star Jam >
Playin' >
Black Peter >
Saturday Night
(E)
The Weight
There is a lot going on in this set list. A LOT...
__________________________________________________
WORKINGMAN'S WEDNESDAY ARCHIVE
http://www.mediafire.com/?d5hy4hpvz9q44a2

silence contagious
Beautiful,
@MJZ1974
.

As always, spreading light, and I thank you for it..
thank you

RIP BarefootBob

Thank you for this.

Archive SBD (stream only....)
http://archive.org/details/gd1991-06-22.sbd.unknown.29057.sbe-fix.flac16

I was at this show. I called Shakedown as the opener, and we were all pretty stoked to see this fine version in the #2 slot.
Thanks for bringin' back the memories.
RIP Bob.

Sad to hear the news.

Thanks for this beautiful write-up and for continuing to spread the light.
And thank you for sharing your story. I lost my mother to breast cancer in 2011 and went through a similar experience as you. This board, and the music of Phish and Dead propped me up through very tough times.
I'm still amazed at how true Hunter's line, "Once in awhile you get shown the light, in the strangest of places if you look at it right" continues to prove to be.

Thank you...a beautiful and touching write up. I've not met either you or Bob, but I know that you are both extraordinary people. Thank you again, and Rest In Peace BarefootBob

afternoon time bump

I found this picture of Bob and his brother at the last dead show which was also at Soldier Field
http://forum.phish.net/permalink.php?commentid=1299967336

well played sir

With all the planning I've been involved in in putting together Phish.net's response to
@barefootbob
's moving (stay tuned, everybody), I haven't had time in the past 24 hours to really break down and start mourning. I'm the kind of person that buries the hurt for as long as possible to make sure everyone else is ok. They tell me this isn't healthy.
Thank you for this. It's the first of what I'm expecting to be many, many, MANY fitting, moving, uplifting tributes to
@barefootbob
and the lives he touched.
It's funny. Since things starting getting bad for Bob in about November, I've cried often. But once we finally got the news that he'd left us and was now free, I haven't cried at all. Maybe that's because I've been keeping myself busy planning "the
@barefootbob
stuff", which will go live soon. Mostly I think it's because I'm actually relieved that he's finally pain-free and anxiety-free.
I'd never be able to bottle it indefinitely and, frankly, it needed to come out. It's the only way to start healing.
So,
@MJZ1974
- Thanks on two accounts: First, for this amazing tribute to Bob, and, second, for helping me begin to heal.

Bob was fuggin hilarious.
I'll download this when I get home.

Sad news. Thanks much...to both of u. Good people who live the right way deserve celebration. A moving tribute, no doubt.

Guys, I haven't felt an outpouring of love like this is a while. This past week proves that there is something incredibly special about this community and the bond we were all able to forge...united by our passion for music and life. Some might think our passion over this music is childish and trivial, but I guess that's what makes us so unique. We
know
it is anything but. We
know
we have tapped into a collective source of higher consciousness, that is able to guide us with love and support than can only be shared by those with a common spiritual bond. We
know
the power of community than can be found by sharing a collective group consciousness, the living embodiment of synergy.
There is a power that we can feel, but it's so hard to describe. In fact, it can be a bit frustrating at times when we
try
to describe it, because it's almost impossible to do. It's something you just have to feel and live. We're lucky that we are all experiencing this same thing. In our community, no words can be just as powerful. Silent understanding can convey what 10,000 words cannot.
"The thoughts are broken...
Perhaps they're better left unsung..."
I have to share something with you guys this morning. I know only you can understand. This is too much to simply be a coincidence. I'll live the rest of my years knowing Bob had a hand in this one. Two things have happened to me in the last 12 hours....two miracles.
1)
I go to roughly 5 AA meetings a week. Some days are flexible but a few are written in stone obligations. For those who don't know, you are encouraged to pick a home group after a while (3-6 months?). You're never supposed to miss this one each week. It's the group you start getting involved with in a service capacity. Making coffee, greeting folks at the door, etc... After a few years you get bigger obligations like group treasurer, area representative, all that kind of stuff. This becomes a second family to you after a few years. It's truly magical...the only thing I can compare it to is the magic bond we feel at a show.
Last night, at the conclusion of the meeting, my home group presented me with a $100 check to donate to Bob's fund. This wasn't a group contribution, they passed the proverbial hat and everyone kicked in. These folks have no clue who he is, but a few guys (Facebook I'm guessing) got wind of it and felt obligated to help my friend. In 2 days they pulled this together "behind my back".
They had NO CLUE Bob was also a fellow AA (not that that would have tilted the playing field one way or another). When I told them they were astonished. Everyone is convinced that somehow a higher power must have guided them into making that decision. For those who don't know, this is the 12th step. To go forth and help other alcoholics and practice these principles in all our affairs. They all did a 12th step without even knowing it until after the fact.
That kindness blew me away.
2)
This one is freaky. Stay with me here...
Last night about 2:30 am I woke up. I pinched my psyatic nerve in my right leg and I've been dealing with severe pain since mid-December. It sucks. So I wake up...get the heating pad under my knee...and decide to watch a Dead video from my new 12 DVD box set I got for Christmas. This one right here:
What to choose? I've seen a few of these dozens of times, others I have never seen. The last one in the box is a Bonus Disc of out-takes from various shows. I flip the box around to see what's on it.
Guess what the last song on the DVD was:
I still can't believe it.
I put this on...and fell asleep to this
Shakedown Street
as the pain in my leg magically went away. I slept like a rock for the rest of the night.
I know in my heart Bob helped me, once again, last night. This is more than a coincidence, I know it. I still can't believe what has happened in the last 12 hours.
- Mike

I saw this thread yesterday (as I always look forward to a new installment of Workingman's Wednesday) But I wanted to give the proper time to read, digest, process and reflect on your amazing words and story.
Thank you for filling my mind, body and soul with warmth and fuzzies. Your words not only promote self-reflection, but also allow us all to feel the gratitude and joy of this community we call .net. Thank you.

Thanks Mike.....Shakingdown for
@BarefootBob
and good choices (with a little happy tear in my eye)

Unreal. I got the same set from my wife for Xmas...I know what I'll be seeing last tonight; damn, that's really neat...damn.

I am sitting here in Africa in tears reading your write up. I have been waiting since Wednesday to get a good enough connection to read your story.
I am crying in happiness for your story of pulling yourself out of darkness, and the similarities you and Bob share. It's amazing. This community never seizes to amaze me.
Can't wait to get back to the states so I can download this show and give the Shakedown a proper boogie down.

I'm bumping this thread for all who haven't yet read the write-up or heard the show--this is one of the finest Dead shows I've heard. I didn't read the setlist so I'd be surprised as I listened, and it's just one good song after another, and strong performances of each. What a great show to use in memoriam of a friend; I'm sure he'd be honored. Rest in Peace, Barefoot Bob.
You must be logged in to leave a comment!