Barefootbobmemorial.com
On January 7th, a friend of the entire Phish community was taken from this world much too early. Robert Eckhart (known by many as Barefoot Bob) found a small spot on his tongue mid-last year. It turned out to be cancer. He went through painful surgeries to have part of his tongue and the lymph nodes in his neck removed. This was followed by numerous, difficult radiation treatments. He was only 37 years old.
When Bob and his doctors finally thought he was cancer free and all that was left was rebuilding his body and learning how to speak and eat again, tumors began to appear around his stomach. The only course of action was a brutal schedule of chemotherapy that seemed to destroy everything in his body but the cancer itself. For a time it looked like an experimental trial conducted at the University of Chicago would at least provide Bob and his family more time together, and Bob had hopes of attending some of the New Year's concerts at MSG. Sadly, the trial ended by December, and Bob's health quickly declined. Thankfully, he and his family were able to spend one last Christmas together before he passed.
Bob leaves behind his wife, Danelle, and two sons, Joseph (7 y.o.) and Noah (6 y.o.). No one should have to go through what Bob and his family went through over the last several months, least of all two young boys who can not understand why their father has been taken from them.
So, it is with a heavy heart but a hopeful spirit that we announce
The Robert Eckhart Memorial Fund Charity Raffle and Auction.
Phish, the Mimi Fishman Foundation, and a number of generous friends and fans have donated some fantastic prints, posters, merchandise and other prizes to spur donations to the trust fund that will help pay for education costs for Joseph and Noah. The rules for the raffle and auction are below, but we encourage you to donate to the Memorial Fund, even if you do not wish to participate in the raffle or auction.
You can read about Bob's courageous battle
here,
and we encourage you to read tributes to Bob from
@MJZ1974
,
Kevin Hansen,
and
Laurie DePhillips,
and we encourage you to leave your own thoughts and memories
in this thread.
Raffle Page
Auction Page
If you wish to donate items for the raffle, please send an email with item info (including location, date and artist for prints) and how you wish to be credited (real name, user name, both, or anonymous) to myemu1@ymail.com
Donate Now

This idea was the brain child of
@DrPeterVenkman
and
@Furry_Thug
, and and IMMENSE amount of time and effort has been contributed by them as well as
@tmwsiy
, Chris Glushko,
@johnnyd
,
@ivy_light
, of course the donors, and if I'm forgetting someone, please forgive me!

Ummm...
@TheEmu
has been busting his ass on this as well


Umm.... wow. This is incredible. I am simply floored at the number of items up for the auction. This is amazing.

Wow...beautiful job by everyone involved...

Just in case you haven't gotten around to clicking on the raffle link yet
(LINK)
, just LOOK at the stuff you can win!
Festival 8 2009 Phishbills
Dick's 2012 Tyler Stout Green Print - Green Colorway
MSG 2012 Full Set of 4 Limited Edition Pins
Show-used 2010 Fishman Autographed Drumstick
Boston 2003 Pollock 20th Anniversary Print
Long Beach 2012 Michael Michael Motorcycle Print
Alpine 2012 LandLand Print
Philadelphia 2003 Campbell Print
The Gorge 2011 Klausen Print
Hollywood Bowl 2011 DKNG Print
Alpharetta 2011 Taylor Print
OKC 2012 Millward Print
Ticketmaster $100 Gift Card
Festival 8 2009 Webster Print
Pelham 2012 James Flames Print
Charlotte 2011 Methane Studios Poster
Terminal 5 2010 TAB Duval Print
Camden 2011 Tong
Coventry Pollock
Holmdel 2011 Welker Print
Darien 2011 Slater Print
Atlanta 2012 Mike Davis Print
Shoreline 2009 SAC Poster
Dry Goods $50 Gift Card
Worcester 2012 AJ Masthay Print
Jones Beach 2010 Burwell Print
Coventry 2004 Covell Poster
Clifford Ball 1996 Pollock Ticket Magnet Set
Star Lake 2009 Isadora Bullock Poster
Vegas-Denver 2003 AJ Masthay Leaving Las Vegas Print
Dick's 2012 Isadora Bullock Print
Sealed Original Pressing White Tape Vinyl
Original 16x40 Painting from Captain Pookie on Gallery-Wrapped Canvas Based on 1994 UIC Pavilion Shows
Full Set Kushner Festival Merit Badges
11 x 14 Trey Autographed Glossy
Autographed Trey Traveler Litho
Set of 5 pins by Uncle Pin Designs
Worcester 2012 Set of Two Tripp Prints
Augusta 2010 Scott Campbell Print
http://barefootbobmemorial.com/raffle/
And we're still adding prizes!

Hey All,
The first item in the auction to benefit the Memorial Fund just went up in
Barefoot Bob's House
on ebay.
It is the 2011 MSG AJ Masthay "Rapture" set of FOUR prints, donated by AJ himself: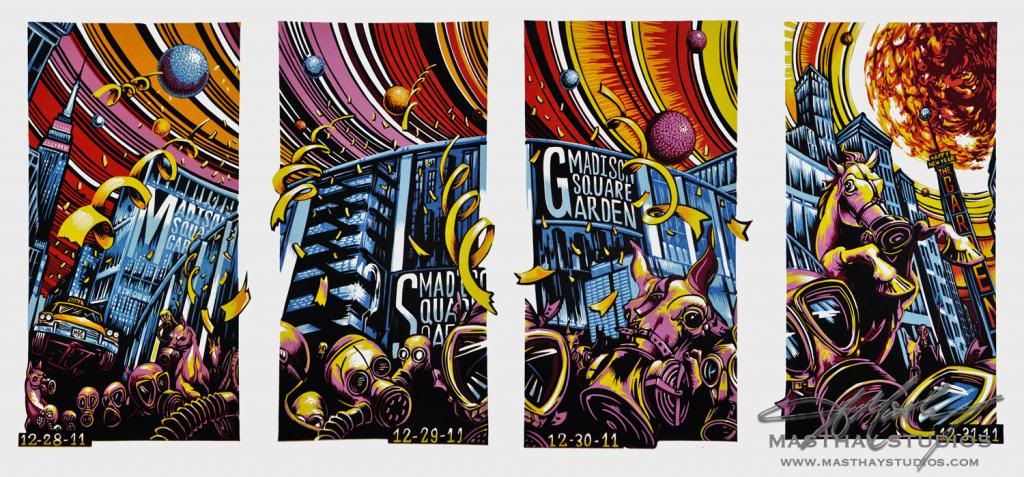 Please visit
barefootbobmemorial.com
for more information on the auction and raffle.
Thank you all for looking. It's a very cool print set that AJ so graciously donated. Go get it! It'll look awesome on your wall, and you'll get a super warm fuzzy feeling every time you look at it, knowing it came from such a great cause. I promise.

Im in!

I'll definitely sign up for this one.
Work is filtering the site as "potentially damaging content". I hate Websense.

people like rob and the folks who put this together are what make this community so special. i am humbled and truly touched by the outpouring of support for rob's family. i didn't know him personally, but his true greatness is reflected in the actions of the people who's lives he touched......and F*CK Cancer!!!!!

Just a quick Raffle update:
We are currently in the process of having winners select their prizes. We're up to pick #19 out of 49, so we're moving along. I may, however, start asking people if they want to send in a list of potential picks in an effort to move things along a bit.
Shipping information is being forwarded to the merchandise donor as soon as I get it. I was hoping to email people again once the merch has been shipped, but I've been a little swamped and haven't been able to do that. So I will be in contact with the winners throughout the process to make sure everything gets to where it's supposed to go. Remember, you can always contact me with any questions; the easiest is probably to send an email to bobmemorial2013@gmail.com, but my personal email and PMs would work, too. Don't just tweet at me though; I don't always get notifications on those for some reason.
This has been a great success, and you can expect to see a blog post summarizing what we've accomplished once we get towards the end of the prize distribution process. Also, expect to see an announcement about a couple more auction items soon! Yay!!

Cancer sucks but you guys rock!
You must be logged in to leave a comment!